After some giving and inspiring days at CycleSummit Bike Island Fyn invite those of you who do or plan to do tours to Fyn on different fam-trips.
You will enjoy beautiful landscapes, city and rural life, great food – a lot of local produce, amazing history – Fyn is known as an island of seamen and traders, nature at its best and the atmosphere of some of Fyns towns and cities. For the sports cycling operators among you will be experiencing some of the sights and facilities that has made Fyn UCI Bike Region and the host for the Worlds in Multisport, the Worlds in Cyclo Cross, the Worlds for Journalists and for one of the finish towns for a stage in Tour de France 2021.
Common for all three leisure tours is easy cycling (approx. 60-80 kms. per tour), suitable for all. The tour for sports operators offers more sportive cycling and longer distances.
The tours all start Tuesday October 1st immediately after CycleSummit and finishes mid afternoon on Thursday October 3rd. After the finish of the fam-trips you will be taken to Copenhagen (Airport) by busses.
Participation in the fam-trips is free – we invite you for accommodation (2 nights), meals, guiding, entrances, bike rental and transport.
There are a limited number of spaces on each tour and the organizers reserves the rights to choose between the operators signing up if there are more registrations than spaces.
Please note that the fam-trips are for operators doing or planning to do/ sell tours on Fyn.
Famtrip 1 – Island hopping on Southern Fyn
Svendborg is a vibrant and exciting town with a historical centre. Shops and restaurants offer tasty, healthy and locally grown food, which has become a brand for Fyn: "The Taste of Fyn" – "Smagen af Fyn". You can explore the traditional wooden shipyard or visit the modern museum of natural history.
One day we take the ferry from Svendborg to the island of Ærø and to Ærøskøbing, which is a truly fairy tale town.
On Ærø you will find yourself in a 19th century atmosphere with narrow cobblestone lanes, half-timbered houses with hollyhocks – and lots of time. Everywhere you cycle you will find farm shops where you can buy fruit, vegetables and honey. Ærø has its own brewery and is known for their production of ice cream and chocolate. You are never far away from the beach or a bench and each of the three main towns have its own charm.
This tour also includes cycling along an absolutely idyllic route along the coastline to the town of Faaborg.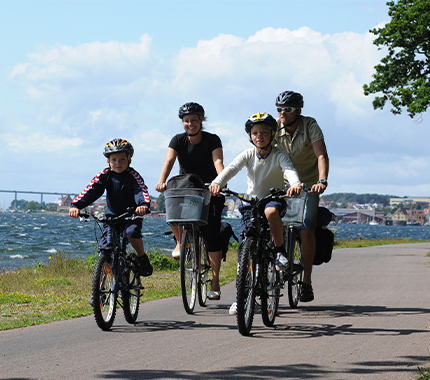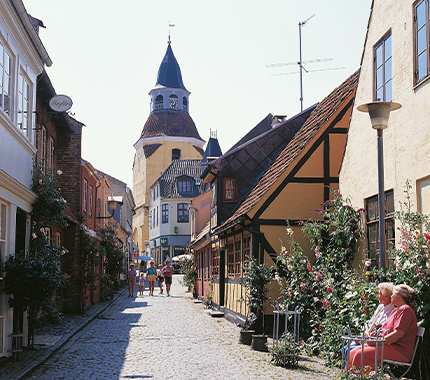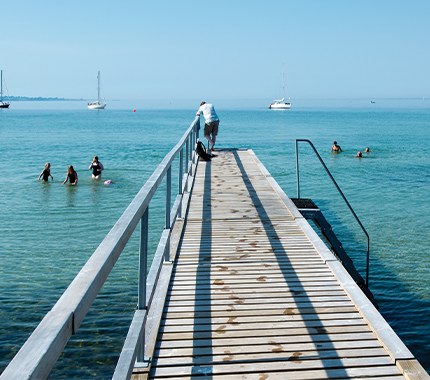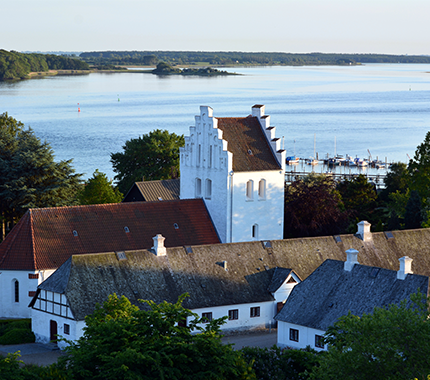 Famtrip 2 – Western Fyn – whales and clay
Middelfart is the small coastal city connecting Fyn and Jutland by two bridges. You can cross the Old Little Belt Bridge by bicycle, car or even do the Bridgewalking in 60 metres high.  The largest Maritime Nature Park in Denmark, Naturpark Lillebælt, flows along the shores of Middelfart and presents a great variety of nature and cultural experiences. You can go whale watching and see the small porpoise whale that lives in great numbers in Little Belt. The area offers safe bicycle paths taking you to the different sights such as CLAY, Ceramic Museum, The Old Harbour and the old historical buildings in Middelfart. Along the way you will find bicycle friendly accommodation, bike shops and friendly atmosphere.
One of the days in Middelfart, after a nice day of cycling, we go sailing on Little Belt – and maybe we see a porpoise.
After the visit in Middelfart we cycle South East towards the ancient seaman's town of Assens for a stroll and a lunch of local produce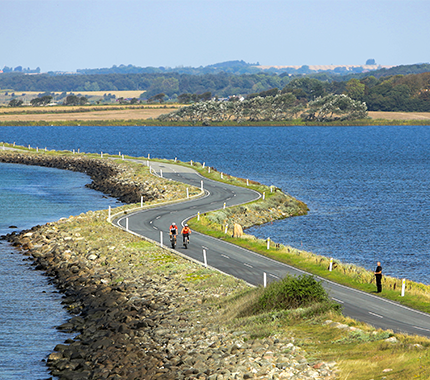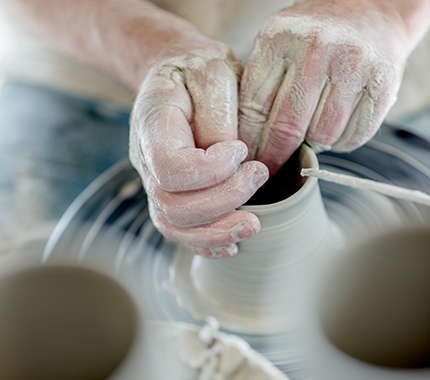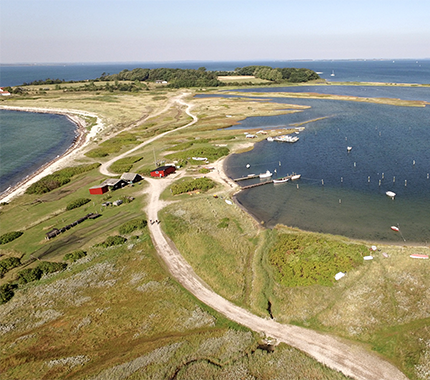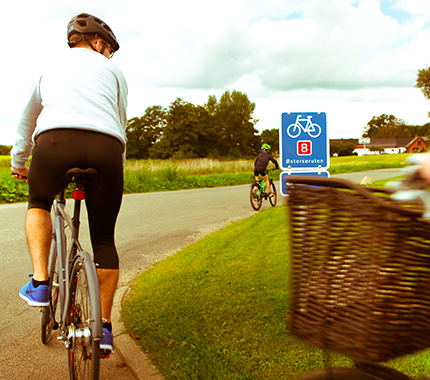 Famtrip 3 – Odense and Kerteminde – city life and coastal living
Odense is the third largest city of Denmark and has a long and exiting history. Most famous of its citizens is undoubtful Hans Christian Andersen, the renowned storyteller, and at this fam-trip you will among other things visit the house where he was born.
Other mayor sights are The Fyn Village and Brandts – Museum for Arts and Visual Culture – and you will of course also be seeing and trying the cycling facilities in this great city, along with it's culinaric variety.
Odense offers all sorts of shopping, sightseeing, cafés and restaurants – and is also a very fine city for cycling with lots of bicycle paths and good signing.
We stay down town Odense for two nights and some great city sightseeing by bike. This trip also includes a really nice tour to the beautiful situated town of Kerteminde on the shore of the Great Belt.
Famtrip 4 – Why UCI awarded Fyn as Bike Region – and Tour de France visits the island
This trip is for those of you offering more active tours – for both road, gravel and mountain bikes.
Fyn was hosting the Worlds in Multisport in 2018 and the Worlds in Cyclo Cross in 2019 – and will be hosting the Worlds for Journalists in 2020 and a finale of one of the stages of the Grand Depárt in Tour de France in 2021. Fyn is also the home of Tour of Fyn – the third oldest, still existing UCI race, in the world, established 1894. Today the event is also a sportive ride.
And even if there are no mountains in Denmark, Fyn has also got quite a lot to offer for mountain bikers – among other things one of the biggest mountain bike sportive events in Denmark.
Add quiet winding roads, beautiful coastal views, cycling culture, lots of spots for coffee stops, a good number of bike repair shops, vertical meters (!) on both road and mountain bikes and a lot of possibilities for off road cycling – and you have an island that is very suitable for a great number of sports cycling clients.
Join this fam-trip and get an interesting new offer for your clients!