In the heart of Denmark lies Fyn – a large, green and cycle-friendly island that is just waiting to be explored. We call Fyn and the Archipelago BIKE ISLAND, because with its 1,200 km of signposted cycle routes, the region gives cyclists of all ages the chance to explore widely varied cycling terrain: everything from flat stretches close to the coastline, to hilly roads winding their way between fields and woodland, and through idyllic villages and market towns.
Fyn has a long tradition of cycling. The annual event Fyn Rundt (road cycling race) was first time held in 1894 and is today one of the worlds oldest still existing races. In 2017 the UCI Cyclo-cross World Cup was held on Fyn – and in 2018 the ITU Multisport World Championships Festival (also including cycling). In 2019 we host the UCI Cyclo-cross World Championship – and in 2021 Tour de France will visit Fyn as the finish line of stage 3 is in Nyborg, just after the riders has passed the Great Belt Bridge.
Leisure cycling also has a long history on Fyn. Being regarded as "The garden of Denmark" and with 123 castles and manor houses Fyn has for centuries been a preferred holiday destination. Some arrived on bikes – and some bought their bike on Fyn, as the island earlier hosted the largest number of cycling manufactures in Denmark. The latest newcomer is the "Fyn Bike" – a bike produced specifically and exclusively for leisure cycling on Fyn.
For the efforts developing cycling tourism Bike Island Fyn was in 2017 awarded UCI Bike Region by the international cycling union, UCI.
Cycle Summit 2019 is held in Nyborg – "The heart of the kingdom of Denmark". In former times the Danish kings resided in the majestic Nyborg Castle. The castle still exists. Another impressive structure is the Great Belt Bridge – one of the largest bridges in the world. 
Click on the button to get access to the official photo database of Fyn:
Nyborg is located on the east coast of the island Fyn.
From Copenhagen airport you can reach Nyborg perfectly by train within 90 minutes.
From Billund airport the train takes about 2,5 hours.
On Saturday, Sept 28th a bus will bring you directly from Copenhagen Airtport / Copenhagen City Centre to Nyborg. Departure is 4 pm / 4.30pm.
Storebælt Sinatur Hotel & Conference Centre
We recommend to stay at Storebælt Sinatur Hotel & Conference Centre which is also the conference location for the CycleSummit. You can book accommodation via the CycleSummit registration form.
The Baltic Sea Cycle Route (N8)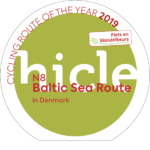 This latest addition to Denmark's nationwide cycle network takes you on an exhilarating and unforgettable island-hopping cycling adventure. The 820-kilometre N8 Route is Denmark's longest official cycle path, leading you alongside the dramatic Baltic Sea.
Covering West and South Zealand, Møn, Lolland Falster, Fyn, Lillebælt and South Jutland, The Baltic Sea Cycle Route gives you the freedom to explore, at your leisure, our most diverse countryside: golden cornfields, rolling, windswept beaches, dark atmospheric woods and timeless Danish villages to take your breath away.
Each part of your journey will give you endless moments to reflect on your surroundings, to feel connected with the land and the sea and invigorate your spirit. Let the road be your guide as you experience nature and culture in perfect harmony. Discover stunning landscapes, indulge in world-class restaurants and relax in sumptuous but cosy accommodation, all close to dramatic coastline.
Whether you are an experienced or recreational cyclist, this clearly-signed and safe route offers a wholly-satisfying holiday experience. However you want to explore South Denmark, The Baltic Sea Cycle Route is all you need to find your way.