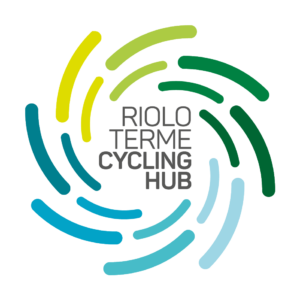 Riolo Terme Cycling Hub is an integrated network of companies that provide direct and accessories services to cyclists.

Riolo Terme is historically known for thermal tourism, thanks to its healing springs. This is flanked by the sweetness of the territory in a valley surrounded by hills: a destination of excellence for leasure and sport cyclists.

Riolo Terme Cycling Hub is the meeting point of specialized service companies, located in the area. We provide services such as creation and marketing of tourist products, transport services, guiding, hospitality and catering, wellness, building a complete holiday experience.
Riolo Terme is a town in the Province of Ravenna in the Italian region of Emilia-Romagna. It is the gateway to the Senio valley between Imola and Faenza (about 50km from Bologna) and its location makes it the perfect departure point for great cycling routes. The old borgo, enclosed by strong walls, was founded in 1300, while the most recent part of town covers the area around the majestic Parco delle Terme, where hotels and accommodation facilities are surrounded by gardens and century old trees.
Arboreal heritage, serene and thermal wellness make Riolo the right destination for seeking a journey in nature, sport and relax. Our offer divide in multi-day experiences and daily activities. The latter are always guided, and also include an experiential activity. Most of the multi-day experiences can be traveled independently, adding to the starting price only the necessary services, or in group formula that includes the guide, visits, extra dinners and transport, for a carefree trip.