CycleSummit 2020 Online Event
Monday, November 9th, 2020
CycleSummit Online Conference
The Summit 2020 was supposed to take place in Yorkshire, which was postponed already in April to next October, 2021.
For the 2020 event we found an alternative place at Lake Constance, Germany but with the rising number of positive COVID tests and travel restrictions we decided to cancel this event as well. 
Now we present the CS20 Online Concept, with almost everything that you expect from a real CycleSummit:
1:1 meetings at the virtual marketplace in private rooms
presentations on a main stage, broadcasted to all participants
social events like an Apérol meeting,  Round Table discussions and an informal Coffee Corner 
Workshops and Webinars from our software & app developing partners
To schedule the 1:1 meetings you will receive an invitation to create your online profile at cyclesummit.com. Also, you can send meeting requests through our website but you need to organize them yourself. 
The first 45 tour operators will get a permanent online meeting room. The Duration of each meeting is set to 20minutes. In between the meetings you can attend to Round Table discussions, meet others in the virtual coffee corner or simply go back to the real life in your (home)office. 
We will only use two software tools: Zoom for the meetings, presentations and webinars, and Wonder.com for open conversations.
Current list of participants
As a registered user you will get full access to the profiles with a direct messenger. You can also filter for country, company and tour categories.
About the CycleSummit
Cyclesummit is the conference for all cycling tour operators worldwide.
Due to the current situation we are going to meet virtually.
Participants are expected to get together online  from different continents.
The summit will provide keynote presentations, webinars, round table discussions and of course a marketplace for 1:1 meetings. 
As a CycleSummit Club member you get access to real networking events as the annual ITB Dinner in Berlin , you get invitations to selected virtual events about bike tour business related topics. Also, you can create and update your own tour operator profile on the CycleSummit.com Website and connect with other tour operators. All members get one free ticket to the CycleSummit Online conference in 2020 and a EUR 50.- discount on the next summit in Yorkshire, 2021.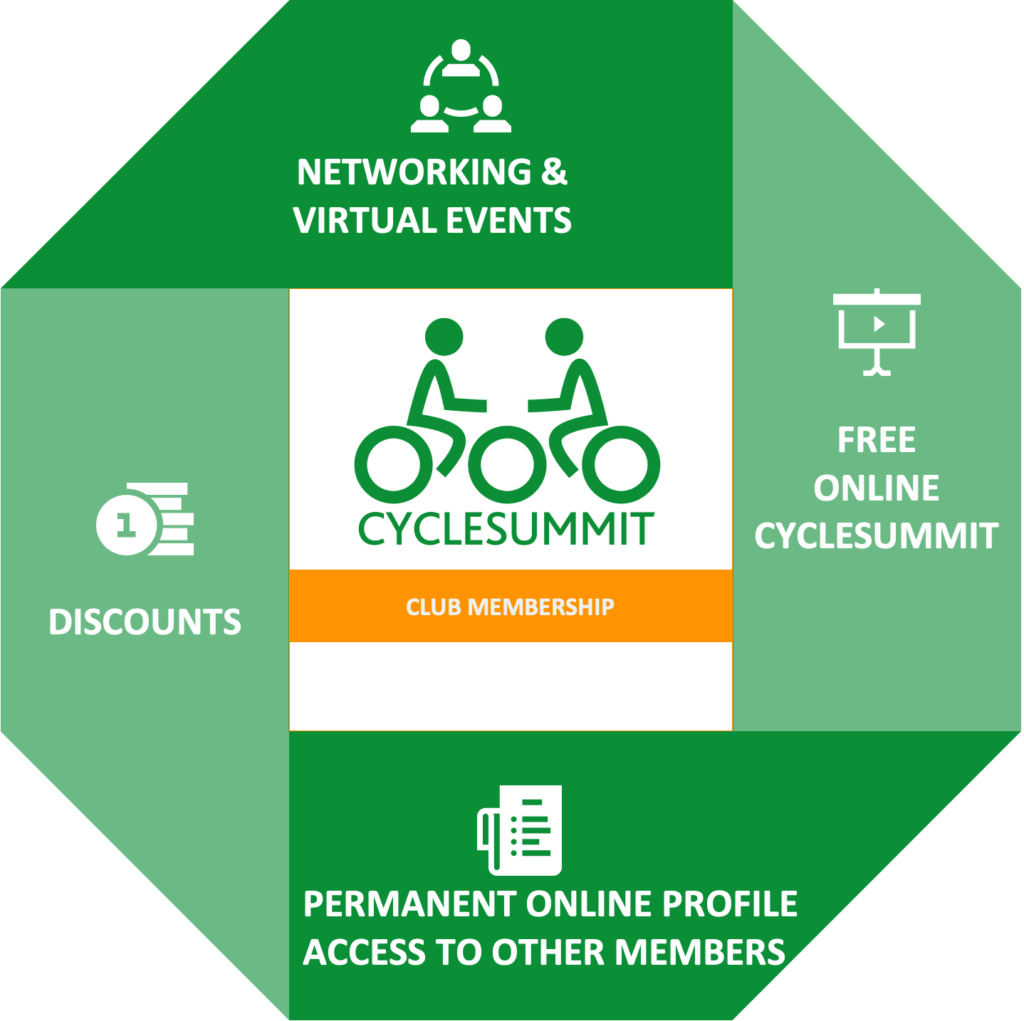 Preview 2021
In 2021 Cycle Summit will be held for the first time in Great Britain and there's no better place to host it than Yorkshire.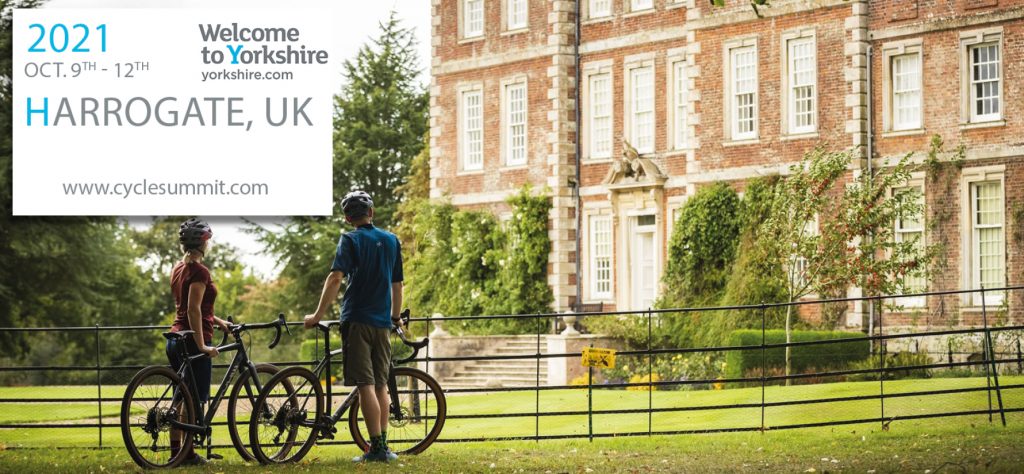 Situated in the north of England, Yorkshire hosted the Tour de France Grand Depart 2014, home of the Tour de Yorkshire since 2015 and proud Hosts of the UCI Championships 2019. With seven great cities, three National Parks, miles of golden beaches, many charming towns and villages and several UNESCO World Heritage sites, God's Own County has it all.Yorkshire offers a wealth of heritage and stunning landscapes, as well as hundreds of world-class attractions. There's also a huge array of food hailing from the county's award-winning restaurants and eateries, including locally sourced pub food and high-end dining at Yorkshire's five Michelin starred restaurants. With iconic long-distance cycle routes such as the Yorkshire Dales Cycleway, North York Moors Cycle Way, the Way of the Roses and the Yorkshire Wolds Cycle Route, cyclists of all levels are in for a treat in Yorkshire.
Harrogate is a spa town in North Yorkshire and looks forward to welcoming you to Cycle Summit 2021. Its heritage as a fashionable spa resort continues in the Montpellier Quarter with the Royal Pump Room Museums, decorating the importance of the local mineral springs. Nearby is the restored, Moorish-style Turkish Baths and Health spa, added to that exquisite gardens, beautiful parks, handsome tree-lined boulevards and a chance to lose yourself in the vibrant charm and elegance of this North Yorkshire destination.
The detailed program for the 12th CycleSummit held in Yorkshire will be available soon