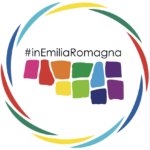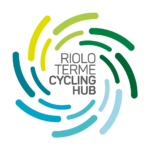 Cycling in Emilia Romagna is a wealth of opportunities for "bike enthusiasts"!
The destination is worldwide renowned for history, art, traditions, brands of the so called Made in Italy, food and wine treasures, fascinating itineraries between the Adriatic Sea and the Po Valley up to the hills and the picks of the Apennines and on the tracks of great cycling champions. A unique experience thanks to age long tradition in hospitality and welcome and synergies between scenery, heritage and excellent food and wine. This is why we chose Emilia-Romagna as the region for the next CycleSummit in 2023.
Riolo Terme is a small town very close to Imola and Faenza. It is famous for its' thermal spa and medival centre. CycleSummit will take place in the Grand Hotel Terme which we booked exclusively as CycleSummit conference space, hotel and homebase for all days from October 7-10, 2023.
Thanks to the partners APT Servizi Emilia-Romagna, the IF Imola-Faenza Tourism Company, the Riolo Terme Cycling Hub and the well known cycle tour operator BikesPlus we will be able to provide you another CycleSummit with impressive experiences and networking activities, while doing business in a relaxed but productive atmosphere.
About the CycleSummit
Since 2009, once a year international tour operators (buyer and seller) get together to meet, network, start new cooperations and businesses and share ideas and products.
Who attends?
90% of the participants are cycling tour operators, the majority is not only organizing tours but also interesting in buying new tours from others. 
The CycleSummit is also a place for regions to present their cycling products and all kind of cycling experts.
Can I only attend to one of the workshop days?
The framing program contains a lot of social activities that support networking and getting to know each other. If you miss this part the 1:1 meetings on Monday/Tuesday are by far less effective for you but also for the others. We do not give any discounts if you're missing the weekend activities and highly recommend to join for the full program.
Is there a deadline?
Usually no. Of course the tables can be fully booked, the pre-reserved hotel rooms could be sold-out and our conference catalog could be printed already but that won't keep us from welcoming you to the CycleSummit even on short notice. Once we've reached around 130 participants we have to draw a line, but that won't be before summer 2023.
How is it organized?
We provide about 50 tables where the 1:1 meetings can take place. These meetings are not scheduled so there's plenty of time and no rush as we know it from big trade fairs. We're doing slow-dating, no speed-dating. Due to the limited space in the Grand Hotel Terme we can't provide a table for everyone!
For the preparation of the meetings a detailed conference catalog will be sent out prior to the event, a print version will be handed-out at the event. Here you find all contact details and descriptions of the participants.
How many participants are expected?
In Chambéry, 2022, more than 120 participants from around 90 tour operators came from over 21 countries, mainly from central Europe but also from North America. The list of participants can be found below and is updated regularly. Most sign-ups occur between July and September.